Allergy Alert
There are nuts or nut products, wheat & dairy products used in this facility.
Cottage Cafe Signature Item
This icon indicates our favourite items.
Please Note
We typically sell out of our baked goods on a daily basis. To avoid disappointment we strongly encourage patrons to pre-order baked goods. To do so please call the café at 519-914-CAFÉ or email 24 hours in advance.

Breakfast Boat 
An open-faced flaky butter croissant with the Whole Pig's bacon cooked crispy, egg, mixed pepper and cheddar cheese

Breakfast Burrito 
Fluffy scrambled egg, Whole Pig crumbled bacon, mixed peppers, onion and shredded cheese in a toasty wrap served with salsa
Ham & Swiss Croissant Sandwich
Features Ferguson's Honey Mustard & Swiss Cheese melted over sliced Ham
Yogurt Parfait 
Cup filled with creamy yogurt, mixed seasonal fruit and house-made granola
Home-Made Scone
Cheese, blueberry or original scone served with your choice of butter or berry jam
Breakfast Charcuterie Board for 2 
Assortment of home-made baked goods piled high with seasonal fruit, yogurt with house-made granola. The ideal shareable breakfast treat!

Kiddo Breakfast Board 
Baked goodie, fresh fruit, yogurt & raisins

Home-made quiche & Chicken pot pie
Individual sized & prepared in-house from our baking team from scratch. Flavours change daily & Served with our seasonal Soup or Salad
Soup 
Big bowl of steamy soup served with a slice of fresh homemade bread
Salads (2 Options)
Cottage Cafe Summer Berry Salad or Roasted Beet Salad 

All sandwiches served open faced on a hoagie bun with a crunchy dill pickle spear and kettle chips!
the Dougie 
Sliced roast beef piled high with onions, sharp cheddar cheese with house-made horseradish & grainy mustard aioli

the Laker Sandwich 
Our Harvest Sandwich is the perfect hearty lunch! An assortment of deli meets, swiss cheese, homemade pesto mayo topped with spring mix & a sweet balsamic reduction. 

the Port
Fresh tomato & mozzarella, pesto spread throughout, finished with a balsamic glaze drizzle & fresh basil from our garden


House-Made Baking & Goodies
Our selections vary daily.
Brownie 
Lots & lots of delicious chocolate packed in this decadent treat
cinnamon buns 
Traditional gooey cinnamon with a cream cheese icing

Always a double shot & never an upcharge for dairy alternatives!
Our Hot Chocolates are always made with delicious creamy chocolate & warm frothed milk
Signature Brown Sugar Cinnamon Latte
Kid-ccino 
Frothy milk with sprinkles!
Flavor Shots  
Vanilla
Chai
Hazelnut
Lavender
Gingerbread
Cinnamon
Peppermint
Salted Caramel

Proudly Serving Fire Roasted Coffee Co. 
Locally Roasted in London Ontario 
We have a variety of Roasts Available: 
 Lake Huron Light Roast
Boater Blend Medium Roast
Grand Bend Biker Dark Roast 
No Wake Zone Decaf Roast
Cottage Cafe Espresso Roast
Single Syrup 
Vanilla
Chai
Hazelnut
Lavender
Gingerbread
Cinnamon
Peppermint
Salted Caramel

Drip Coffee
(Light, Medium & Dark Roast)
Tea 
Earl Grey
English Breakfast
Chai
Green
Ginger
Peppermint
Decaf

Lemonade with Fresh Mint Leaves 
Pink Lemonade with Fresh Citrus 

Orange Juice or Apple juice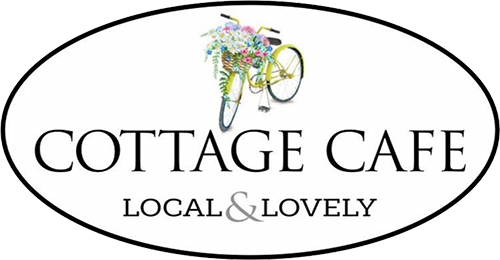 Closed for the Season- see you Spring 2024!